Front End Developer

---

With the power of HTML, CSS, and JavaScript, I create beautiful and responsive front-end experiences with an emphasis on clear and efficient design. I work diligently to make unique interfaces that balance form and functionality.

I strongly believe that memorable web experiences are created by pairing precise strategy with divergent thinking.

During development, I know how to source the information I need to move projects forward. My process gravitates towards detail and intricacy. I am a perfectionist as well as an ambitious maker; I strive to push my boundaries while still preserving excellence in craft. I embrace and learn from my failures.
Skills
---
Advanced
HTML5
CSS
SASS
Github
Responsive Design
Intermediate
JavaScript
jQuery
Angular.js
Gulp.js
Basic
Node.js
Express.js
Photoshop
Illustrator
Experience
React.js
p5.js
Projects
---
Bibliopile
---
Book lending library for requesting and lending books. Log in to Facebook, post, request, and share books.
My contributions:
I coded the Angular.js framework and JavaScript, SASS, and designed the UX of Bibliopole. I worked with the back-end team to implement our own API endpoints and configured the Google Books API.
Technologies:
HTML5, SASS, Angular.js, JavaScript, AJAX, Mongo DB, Node.js, Express.js, Gulp.js, JSON, REST API's
Browse:
Fuzzle
---
A Meetup platform for Seattle tennis players. Find courts, find players, and play tennis!
My contributions:
I coded the JavaScript and co-coded the CSS for the site. I worked with the back-end team to implement our own API endpoints and configured the Google Maps and Seattle City Data API's.
Technologies:
HTML5, SASS, JavaScript/JQuery, AJAX, Mongo DB, Node.js, Express.js, Gulp.js, JSON
Browse:
Portfolio Site
---
The portfolio site your are currently viewing.
My contributions:
I created this site from scratch.
Technologies:
HTML5, SASS, JavaScript/JQuery, Node.js, Exrpess.js, Gulp.js
Browse:
Contact
---
Please get in touch with me to discuss any opportunities.
I look forward to hearing from you!
About Me
---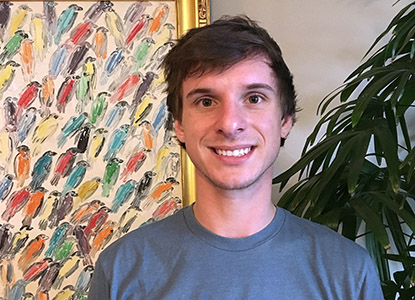 Hi! I currently reside in Austin, TX with my girlfriend Ellen Dick who is a seriously kickass glassblower-check her out!
We live with a 17 year old cat who is belovingly called "Ms. Kitty." Her original name "Spice" never really took.
Beyond coding I make art, play guitar and cello, get outdoors, and play sports. I really love throwing frisbees.
I also enjoy most food, especially BBQ and sushi.